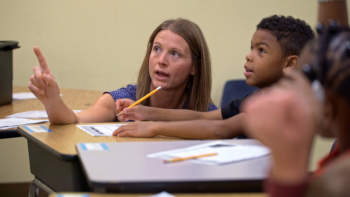 Kindergarten Supply List
All items are used collectively to share with the class! Please don't send folders, notepads, or pencil boxes.
Dry erase markers
Pink erasers
Pencils
Hand sanitizer
Cleaning wipes
Tissue box (2)
Crayons
Glue sticks
Markers
Colored pencils
Wish List
Construction paper
Shaving cream
Highlighters
Drawing paper
---
First Grade Supply List
Pencils
Erasers
Glue sticks
Crayons
Markers
Folders
Kleenex
Hand sanitizer
Wish List
Clorox wipes
Construction paper
---
2nd Grade Supply List
Folder
Pencils
Notebooks
Crayons
Dry erase markers
Glue sticks
Pencil/crayon box
Erasers
Kleenex
Hand sanitizer
Paper towels
---
3rd Grade Supply List
(1) 3 Subject notebook or (3) 1 subject notebooks
Colored pencils
Crayons
Glue stick
Scissors
Ruler
Dry erase marker
Crayon/pencil box (a size that will fit into your desk)
Supplies for the entire classroom
Cleaning wipes
Kleenex
Pencils
---
4th Grade Supply List
Pencils (enough lead to last all year)
4 blue or black pens
2 red pens
2 green folders
2 red folders
Looseleaf notebook paper
Glue sticks
Crayons
Post-it notes
Markers (optional)
In addition, the following items would be greatly appreciated:
Kleenex
Hand sanitizer
Clorox or Lysol wipes
Paper towels
---
5th Grade Supply List
Here are a few supplies your student will need this year:
(Please label your supplies with his/her name)
1 glue stick or bottle of glue
5 spiral notebooks
5 pocket folders (3-hole)
Three ring binder to hold folders
24 or more pencils
Crayons, colored pencils, or markers
Pencil bag or pencil case
Scissors
Small paperback dictionary
We also go through a lot of the following items throughout the year and will greatly appreciate any donation you might be able to make:
Kleenex
Hand sanitizer
Disinfecting wipes
Dry erase markers
---
6th Grade Supply List
Please label supplies with his/her name
5 pocket folders
5 spiral notebooks
Three ring binder
At least 24 pencils = preferably mechanical
1 pack pencil erasers
Box of colored pencils
Box of markers
Pencil bag or case
Teacher Wish List - Not necessary, but always appreciated
Kleenex
Hand sanitizer
Disinfecting wipes
Dry erase markers
Lined paper
Supplies tend to run low around the middle and the end of the year. Please check back with your student to see if they need to have their school supplies refreshed!
---
7/8 Grade Supply List
Pencils
Pens
Erasers
Loose leaf paper
Notebooks
Graph paper
Colored pencils
Markers
3 ring binders
Folders
Highlighters
Composition notebooks
Index cards
Clorox wipes
Kleenex